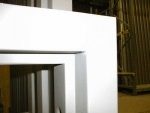 Doorway Solutions believes in placing quality above all else. We guarantee your material will be to your specifications and of the highest quality workmanship and accuracy.
We have implemented quality control checks at every stage of our operations:
Prior to any work being done, your order is checked to be sure it is entirely accurate.
In our shops all material is subject to stringent inspections before, during and after fabrication. The fit and finish on all materials from our shop is nothing short of exemplary.
In the warehouse all material is continually inspected for material defects and damage.
Architectural hardware is inspected for defects, missing components, etc. as well as inspected to ensure the completeness of your order.
Prior to shipping any material, a quality control inspection is performed to ensure the material leaves our facility in proper condition with all the components you require.
At the job site, our drivers inspect material to ensure no damage occurred during shipment.
If picking up your order at our facility, Will Call will inspect all material to ensure your order is accurate and of the highest quality.
In the field, our field service technicians ensure all repairs and installations are of the highest quality in all aspects.
Should you have any questions regarding our Quality Control Program or have a quality control issue you would like to discuss, please feel free to contact our Quality Control Manager.

Key System Maintenance, Installation & Service