TruStile Adds 20-Minute Interior Glass Fire Doors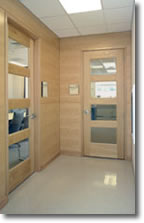 TruStile recently announced new 20-minute interior glass fire doors as an addition to their lineup of fire-rated door options. TruStile's 20-minute rated glass doors are perfect for offices, conference rooms, interior lobbies and other applications where a 20-minute rated door is required by code, but the look of a glass door is desired.
TruStile allows you to maintain design consistency throughout your commercial project by offering virtually all of its 400+ standard panel door styles in 20- through 90-minute fire ratings. And now, with their 20-minute glass options, even fire-rated glass doors can match the other openings in your project.
For more information on TruStile's 20-minute glass fire doors, see their technical bulletin. To learn more contact the experts at Doorway Solutions.