The Pepsi Center

The 96 luxury suites at the Pepsi Center presented a unique challenge to Doorway Solutions®. More than 200 different events are held each year in this outstanding facility, and each suite owner has from 12 to 16 tickets for each event. The question became, "How do you provide quick and easy suite access to each ticket holder and provide security as well?" Doorway Solutions®, working in conjunction with TicketMaster, engineered and installed a unique bar code reader on each suite, which is tied to an electric strike on the suite's entry door. All of the readers are, in turn, tied into a central network, authorizing entry for specific tickets to any given event. In this case, Doorway Solutions®' extensive knowledge and resources proved invaluable to the facility owner.
Regis University Chapel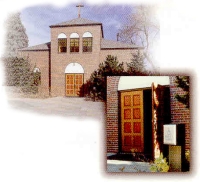 The Americans with Disabilities Act (ADA) brought about significant changes in the standards for public door openings. One of the biggest evolutions has been the development of the low-energy door operator. The front entrance to the St. Francis Regis Chapel required improved ADA compliance, and Doorway Solutions® was able to install a low-energy door operator and related controls with minimal disruption to the chapel entrance. Doorway Solutions® has installed literally hundreds of low-energy door operators, providing a low-cost, low-impact solution for ADA compliance.